We participate in the National Residency Matching Program (NRMP) and accept applications through the Electronic Residency Application Service (ERAS). The ERAS common application form requires:
Medical school transcript
United States Medical Licensing Examination (USMLE) 1, 2, 3 transcripts
Two letters of recommendation (with one from the residency program director in internal medicine)
Educational Commission for Foreign Medical Graduates (ECFMG) status report, if applicable
To be considered, applicants must complete an Accreditation Council for Graduate Medical Education (ACGME) internal medicine residency or equivalent by July 1 of the fellowship start date. We support J-1 visas. For international medical graduates, it is important to note that completing an ACGME-accredited internal medicine residency training program and American Board of Internal Medicine (ABIM) board-eligibility in internal medicine is required for ABIM board-eligibility and certification in infectious disease.
---
Positions Held:
Associate Professor
Infectious Disease Fellowship Program Director
Director, Infectious Diseases Resident Consultation Curriculum
Associate Program Director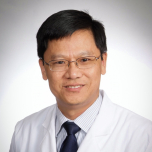 ---
Positions Held:
Associate Professor
Associate Director of Antibiotic Stewardship Program
Associate Fellowship Program Director
For more information, please contact: