Gynecologic Oncology Fellowship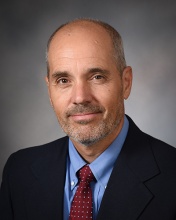 Welcome
The University of Kentucky Gynecologic Oncology Fellowship Program is fully accredited by the ACGME and approved for a complement of five fellows, accepted in a 2-1-2 alternating schema. All positions are filled through the National Residency Matching Program (NRMP) match.

Upon completion of their training, graduates will have the necessary skills to accept an academic position, evaluate and manage all patients with gynecologic malignancies, prescribe and manage chemotherapy, implement cancer education programs, perform meaningful translational research, participate in collaborative group trials, and be future leaders in gynecologic oncology and cancer centers.

Sincerely,
Frederick R. Ueland, MD
Fellowship Director
Fellowship Tracks
We offer the following fellowship tracks:
3-year

12 consecutive months of research followed by 24 months of clinical training
Offered every year

4-year

24 consecutive months of research followed by 24 months of clinical training
Offered every other year (interview odd years, enroll even years) 
Candidate for NIH T-32 Surgical Scientists Training grant
Classwork toward a master's degree or PhD to be completed prior to graduation
Gynecologic Oncology Application Deadline
Deadline for interview applications is April 3, 2023.  Applications should be submitted through the ERAS system.
Details on how to apply, along with information about the Division of Gynecologic Oncology, Markey Cancer Center, and UK HealthCare are below.
For further questions, please contact:
Shar Ellixson, Fellowship Program Manager
Email: swelli2@uky.edu
Phone: 859-323-3975
How to Apply
The Gynecologic Oncology Fellowship participates in the Electronic Residency Application Service (ERAS) for all positions. Our application requirements are the same as the standard ERAS application:
ERAS for Fellowship Applicants 
(To apply, go to https://www.erasfellowshipdocuments.org/)
Complete application
CV
Personal statement
Medical Student Performance Evaluation (MSPE)
Medical school transcript
USMLE Step 1
USMLE Step 2
CREOG scores
Three letters of recommendation (one of which is from your residency program director)
 
Applicants should submit their CREOG scores to Shar Ellixson at swelli2@uky.edu.
About the Division of Gynecologic Oncology
The division includes seven clinical faculty, six full-time gynecologic oncologists and one emeritus, a gynecologist, two PhD researchers, and two nurse practitioners. Our faculty members are Best Doctors® and Top Doctors® in America. The division has a cohesive and inclusive work culture with an exceptional history of quality, safety, and effectiveness in patient care. Annual patient care volumes include 5,000 outpatient visits, 1,300 chemotherapy cycles, 1,000 surgical operations, including 250 robotic-assisted procedures. The robust clinical volumes give fellows exposure to the procedures necessary to demonstrate competency in all aspects of gynecological cancer care. A weekly multi-disciplinary Tumor Board integrates the principles of surgery, surgical pathology, radiation oncology, adjuvant therapy, and supportive services. It is a dynamic educational opportunity for trainees. 
The division is a cancer center leader in enrollment for screening and therapeutic clinical trials, including investigator-initiated, collaborative group, and industry trials. Over the last few years, divisional publications have appeared in THE LANCET Oncology, Cancer, Obstetrics and Gynecology, Gynecologic Oncology, International Journal of Surgical Oncology, Neoplasia, Journal of Women's Health, Journal of Pediatric Surgery, Pathology, Cancer Investigation, the American Journal of Obstetrics and Gynecology, Surgical Oncology, Annals of Surgical Oncology, and Clinical Obstetrics and Gynecology.
About Markey Cancer Center
The division of gynecologic oncology is an integral part of the NCI-designated Markey Cancer Center (MCC) at the University of Kentucky. Under the leadership of Mark Evers, MD, the MCC has ascended to a top 30 cancer hospital national ranking by the US News & World Report. MCC includes 28 departments from eight different colleges at the University. Since its establishment in 1983, the MCC has experienced a steady increase in the number of faculty, research programs, funding, space, and recognition. The MCC includes four thematic research programs: 1) Cancer Cell Biology and Signaling, 2) Cancer Prevention and Control, 3) Drug Discovery, Delivery, Translational Therapeutics, and 4) Genomic Instability, Epigenetics and Metabolism. There are also five established shared resource facilities: Biospecimen Procurement and Translational Pathology; Biostatistics and Bioinformatics; Cancer Research Informatics; Flow Cytometry and Cell Sorting; and Redox Metabolism. The MCC inpatient care facilities include the recently completed Pavilion A and the newly renovated inpatient Women's Care Center in the MCC Roach Building.  Outpatient clinics, Outpatient Chemotherapy and Infusion, the Precision Medicine Clinic, the Combs Research Building, and the Whitney Hendrickson Women's Cancer Facility are all in adjacent buildings. Recent construction includes 40,000 square feet of space in the new Bio-Pharmaceutical Building and 15,377 square feet of dedicated cancer research laboratories in the Biomedical/Biological Science Research Building.
About UK HealthCare
UK HealthCare is the No. 1 hospital in Kentucky as ranked by the US News & World Report. The hospital system has experienced extraordinary growth over the last 10 years and is now among the largest 30 percent of academic medical centers in the nation. Since 2003, discharges and operating revenue have increased by 80 and 140 percent, respectively. Completed in 2011, the 512-bed $762 million Pavilion A is the marquis addition to the hospital complex.