Neonatal Intensive Care Unit (NICU)
The Neonatal Intensive Care Unit at the University of Kentucky Children's Hospital opened on April 29, 2018. The new state-of-the-art Level IV regional referral center has 68 patient rooms - including two twin rooms especially for families with twins - for a total of 70 beds. The facility provides care to sick newborns from within the University system and central and eastern Kentucky. The NICU admits 800-900 infants per year for medical or surgical reasons. Approximately 120 infants admitted per year weigh less than 1000 grams (majority are inborn). The patient population provides an adequate volume of high-risk obstetrics, routine newborn disorders, and rare diseases, as well as complex genetic anomalies. Services provided include conventional and high-frequency ventilation, therapeutic hypothermia, nitric oxide therapy, extracorporeal membrane oxygenation (ECMO), and pre- and post-operative surgical care. The full complement of consulting services is available for complex cases. 
The University of Kentucky Hospital obstetrical unit is also a referral center for high-risk obstetrics, with approximately 2500 deliveries per year with as many as 40% high-risk pregnancies. The maternal-fetal medicine faculty members work closely with the neonatology faculty not only in the realm of clinical care but also in research endeavors.
Neonatal fellows see patients in the NICU Graduate Clinic once or twice a month. It is located on campus in the Pediatric Specialty Clinic adjacent to the hospital. The facility has eight examination rooms that can be used for physical, neurological, or developmental assessment using standardized instruments such as the Bayley Scales of Infant Development. Equipment and laboratory space are available in the Department of Pediatrics Core Laboratory for complex scientific experiments including immunofluorescence, cell cultures, cytokine analysis, and small animal facilities. Arrangements can be made with other departments within the University and with outside collaborators. The division of neonatology has an ongoing relationship with the Center for Biomedical Engineering and the departments of physiology and anatomy/neurobiology. The Medical Center Library provides access to over 1500 current journals and 3,500 total journals with over 125,000 volumes. Online journals and an inter-library loan service are also available. The William T. Young Library, the main library facility for the University of Kentucky campus, is located nearby.
Twin Rooms
The NICU has two rooms that allow parents of twins to stay with both babies in one room.
Friendly Neighborhoods 
Welcome to the neighborhood! Each corridor in the NICU has a designated Kentucky nature theme. This is useful for wayfinding and establishing a sense of community within each neighborhood.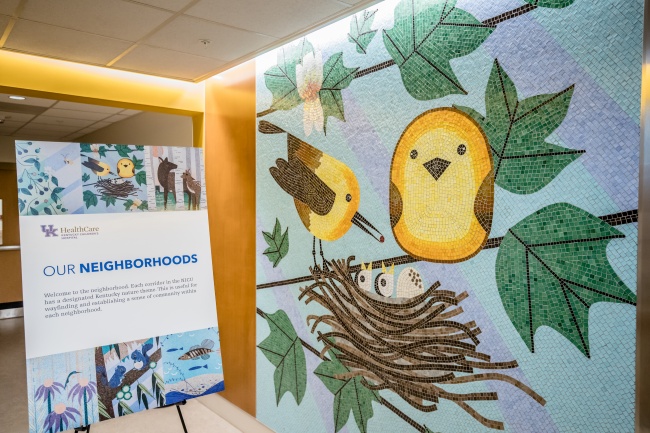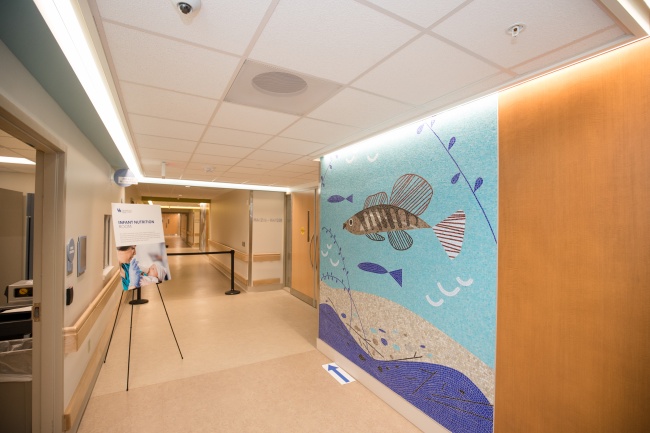 Patient Rooms
Every room in the NICU is private and outfitted with a daybed, kangaroo chair, and breast pump, allowing parents to stay in the space with their baby as much as possible.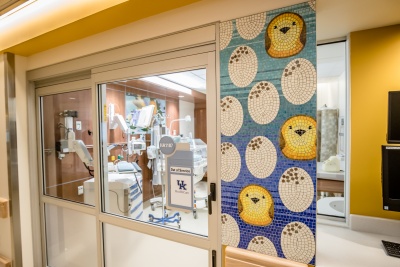 Home Amenities
This space has family showers, a kitchen, and laundry facilities so that long-term patients and families have as many home amenities as possible.
Family Lounge
A family lounge area encourages community and support among NICU families. Programming is planned in this lounge area to facilitate family interaction and support. The room features a comfortable seating area and a kitchen with small appliances and counterspace.
Staff Spaces
In addition to state-of-the-art spaces for patients and families, the NICU also includes fresh and functional staff spaces. These include workrooms, a lounge area, a quiet room, a staff terrace, and a simulation room all within the unit, allowing staff to work and have downtime while staying close to patients.
Care-by-Parent Rooms
The NICU has two care-by-parent rooms that allow parents to slowly begin caring for their child on their own. This prepares families to go home by facilitating the care transition in a safe environment.
Infant Nutrition Room
Our infant nutrition room is the central location for formula and breastmilk preparation for all of KCH. This room will be managed by registered dietitians to ensure that we are meeting the nutritional needs of neonates and all children throughout the hospital.
Our team uses ground and air transport to bring patients to our intensive care environment. About 40 percent of birthing mothers at UK HealthCare are considered high risk; 20 percent of their infants are low birth weight and are admitted to the NICU. About 50 percent of the NICU admissions come from our own delivery service. The remainder of our infants are transported by the nurse clinician on the neonatal transport team.
Circadian Rhythm Lighting
Circadian rhythm lighting, which mimics natural light cycles, is a feature in all patient rooms. Studies prove such lighting has developmental benefits for infants, such as improved weight gain, growth and oxygen saturations, and reduced crying and fussing.