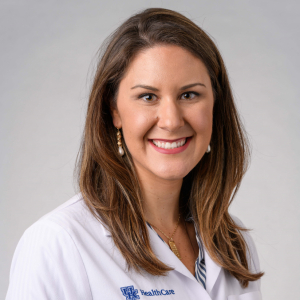 Laura Harbin, MD
Positions
College Unit(s)
Biography and Education
Biography
Dr. Harbin is a clinical fellow in Gynecologic Oncology at the University of Kentucky Markey Cancer Center. She completed her residency in Obstetrics and Gynecology at the Medical University of South Carolina where she received the Paul Underwood Award for outstanding surgical skills, the Society of Gynecologic Oncology Outstanding Resident Award, and the ASCCP Outstanding Resident Award. During residency she also received the John McCain Award from the South Atlantic Association of Obstetricians and Gynecologists and the Resident Research Day Award for her research on endometrial cancer. She received her Medical Doctorate from the University of South Carolina-Greenville where she was elected to the Alpha Omega Alpha honor society. She is passionate about medical education, surgical innovation, and quality improvement. She was raised in Frankfort, Kentucky, and is excited to bring her clinical skills and patient care to the women of Kentucky.
Summary:
Current Year:
PGY-7 Univ. of SC-Greenville, Medical Univ. of SC
Hometown:
Frankfort, KY
Research
Dr. Harbin's current interests include precision medicine and personalizing cancer care, particularly in ovarian cancer. She is part of the lab of Dr. Jill Kolesar at the Markey Cancer Center. Her project aims to recognize novel gene mutations through whole exome sequencing with the hopes of finding more individualized predictors of prognosis and targets for future therapy.
Selected Publications
1. Laura M. Harbin, Laurel K. Berry, Amy E. Wahlquist, Joshua Richmond, Whitney S. Graybill, Matthew F. Kohler, William T. Creasman. Tumor proximity to serosal surface as an independent prognostic factor in FIGO stage 1 endometrial cancer. European Journal of Gynaecological Oncology, 2021, 42(3): 574-579. 2. Berry LK, Harbin LM, Wahlquist AE, Green EM, Drohan AM, Buchanan TR, et al. Vaginal Hysterectomy for Treatment of Endometrial Cancer, 30 Years of Experience. Clin Oncol. 2020; 5: 1751.