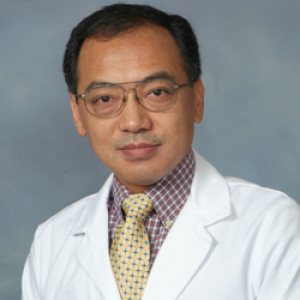 Dongfang Wang, MD
Connect
859-323-8265
dongfang.wang@uky.edu
Positions
Professor
Director of Artificial Organ Laboratory
Division of Cardiothoracic Surgery
College Unit(s)
Other Affiliation(s)
Surgery/Cardiothoracic
Surgery/Research
Biography and Education
Education
Graduate School
MD: Hubei Medical College
PhD: Tongji Medical University, Wuhan, Hubei
Fellowship
Research Fellow
Division of Cardiothoracic Surgery
University of Texas Medical Branch
Research
Chronic lung diseases are now the third leading cause of death in America, claiming the lives of over 400,000 annually with a cost of $154 billion. As chronic lung disease reaches end stage, lung transplantation becomes the only choice for effective treatment. With the scarcity of suitable donor lungs, however, the average time on the waiting list is 12.4 months with 14% of patients dying on the waiting list. A narrow window of opportunity exists for lung transplantation in any patient who is sick enough to benefit from the operation, but healthy enough to survive the months of waiting for a donor lung and subsequent surgery. Thus, there is a critical need for a respiratory support strategy which can serve as a bridge to lung transplantation. Unfortunately, no suitable long-term ambulatory bridge to lung transplantation exists. Recent success in the use of ambulatory ventricular assistance has stimulated research toward the development of a device to serve as a bridge to lung transplantation. In this application, a new artificial lung (AL) will be developed for long-term respiratory support. The fibers in the new AL will be coated with an ultra-thin PTFE membrane layer which will result in better gas exchange performance and lower blood resistance. The new AL will also have an even blood flow pattern to eliminate blood stagnancy, thereby reducing the occurrence of thrombosis. The significance of this project is that a new AL will be developed that will provide long-term ambulatory respiratory support for bridge to lung transplant use. Furthermore, completion of this research will also result in an AL prototype ready for clinical testing.
Acute respiratory distress syndrome (ARDS) affects approximately 200,000 patients a year in the United States with a mortality rate as high as 38.5%. Although ventilatory assistance is necessary for survival of ARDS, there is now ample evidence that ventilator-induced lung injury (VILI) is a major factor in morbidity and mortality of ARDS patients. Multiple studies have shown an improvement in survival when utilizing a low tidal volume (LTV) ventilator management strategy. LTV ventilation, however, may cause alveolar hypoventilation, hypercapnia, acidosis, pulmonary hypertension, and oxidant-induced lung injury. Recently, we developed a simple and relatively inexpensive arteriovenous CO2 removal (AVCO2R) technique to achieve near total extrapulmonary CO2 removal and allow lung rest during severe respiratory failure. Our modeling and animal studies indicate that as little as 10-15% of cardiac output shunted through a low-flow resistance oxygenator (artificial lung) can allow 70-90% removal of total CO2 production to uncouple the mechanical ventilator from the burden of CO2 removal while maintaining pulmonary oxygen transfer. In our prospective, randomized, criteria-driven, outcome study of percutaneous AVCO2R with our established LD100 ARDS sheep model, AVCO2R achieved 97% CO2 removal and allowed a significant reduction in airway pressures and ventilator dependent days, plus significant improvement in survival.
Completion of the paracorporal artificial lung, AVCO2R, and ARDS projects will provide new and improved respiratory support strategies for chronic lung disease patients awaiting lung transplant and acute respiratory distress syndrome patients.
Selected Publications
Google Scholar
Research Gate
Pubmed Publications