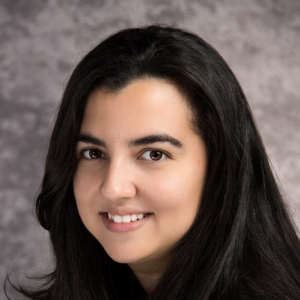 A. Catalina Vélez-Ortega, PhD
Connect
Office: (859) 323-4344
catavelezo@uky.edu
741 South Limestone, Physiology BBSRB room # B377, Lexington, KY 40536
Positions
Assistant Professor, Department of Physiology
College Unit(s)
Pronouns
She / Her
Biography and Education
Education
B.S. in Biomedical Engineering, Antioquia School of Engineering & Health Sciences Institute, Colombia, 2003
M.S. in Biology, University of Antioquia, Colombia, 2009
Ph.D. in Physiology, University of Kentucky, Lexington, KY, 2014
Research
My laboratory is currently working on two main projects:
1. Molecular machinery involved in the activity-dependent plasticity of the stereocilia cytoskeleton:  The inner ear sensory cells (known as hair cells) have specialized microvilli that are groped in highly-organized bundles. These sensory organelles detect sounds or head movements. We previously showed that the actin cytoskeleton within these modified microvilli exhibits activity-dependent remodeling. We are currently studying the molecular mechanisms involved in this novel type of cytoskeleton remodeling by exploring activity-dependent changes to actin dynamics, actin composition, actin filament organization, and several actin-binding proteins.
2. Protection against noise-induced hearing loss mediated by TRPA1 channels: TRPA1 channels are master sensors of tissue damage. In nociceptive neurons, TRPA1 activation triggers pain signals. In the inner ear, TRPA1 function is unknown. We have found that TRPA1 channels can be activated after noise exposure and their activation regulates hearing sensitivity. In this project we are exploring the cellular pathways through which TRPA1 activation leads to changes in hearing sensitivity.
Selected Publications
Imaging analysis reveals budding of filamentous human metapneumovirus virions and direct transfer of inclusion bodies through intercellular extensions. El Najjar F, Restrepo Castillo S, Moncman CL, Wu CY, Isla E, Velez Ortega AC, Frolenkov GI, Cifuentes-Munoz N, Dutch RE. In press. mBio. 2023.
TRPA1 activation in non-sensory supporting cells contributes to regulation of cochlear sensitivity after acoustic trauma.  Vélez-Ortega AC, Stepanyan R, Edelmann SE, Torres-Gallego S, Park C, Marinkova DA, Nowacki JS, Sinha GP, Frolenkov GI. Nat Commun. 2023 Jun 30;14(1):3871. PMID: 37391431
Stereocilia bundle Imaging with Nanoscale Resolution in Live Mammalian Auditory Hair Cells. Galeano-Naranjo C, Vélez-Ortega AC, Frolenkov GI. JoVE, 2021 (167). PMID: 33554973
Myosin-XVa Controls Both Staircase Architecture and Diameter Gradation of Stereocilia Rows in the Auditory Hair Cell Bundles. Hadi S, Alexander AJ, Vélez-Ortega AC, Frolenkov GI.J Assoc Res Otolaryngol. 2020 Apr;21(2):121-135. PMID: 32152769
Building and repairing the stereocilia cytoskeleton in mammalian auditory hair cells.  Vélez-Ortega AC, Frolenkov GI. Hear Res. 2019; 376:47-57. PMID: 30638948 
Mechanotransduction current is essential for stability of the transducing stereocilia in mammalian auditory hair cells. Vélez-Ortega AC, Freeman MJ, Indzhykulian AA, Grossheim JM, Frolenkov GI. eLife. 2017; 6. PMID: 28350294
Angular Approach Scanning Ion Conductance Microscopy. Shevchuk A, Tokar S, Gopal S, Sanchez-Alonso JL, Tarasov AI, Vélez-Ortega AC, Chiappini C, Rorsman P, Stevens MM, Gorelik J, Frolenkov GI, Klenerman D, Korchev YE. Biophysical journal. 2016; 110(10):2252-65. PMID: 27224490
Visualization of Live Cochlear Stereocilia at a Nanoscale Resolution Using Hopping Probe Ion Conductance Microscopy. Vélez-Ortega AC, Frolenkov GI. Methods in molecular biology (Clifton, N.J.). 2016; 1427:203-21. PMID: 27259929
[Common variable immunodeficiency: Clinical and immunological characterization of patients and homogeneous subgroup definition by means of B lymphocyte subpopulation typing]. Vélez AC, Castaño DM, Gómez RD, Orrego JC, Moncada M, Franco JL. Biomedica : revista del Instituto Nacional de Salud. 2015; 35(1):101-16. PMID: 26148039
Enhanced generation of suppressor T cells in patients with asthma taking oral contraceptives. Vélez-Ortega AC, Temprano J, Reneer MC, Ellis GI, McCool A, Gardner T, Khosravi M, Marti F. The Journal of asthma : official journal of the Association for the Care of Asthma. 2013; 50(3):223-30. PMID: 23259774
Generation of induced regulatory T cells from primary human naïve and memory T cells. Ellis GI, Reneer MC, Vélez-Ortega AC, McCool A, Martí F. Journal of visualized experiments : JoVE. 2012; (62). PMID: 22525890
TRPA1-mediated accumulation of aminoglycosides in mouse cochlear outer hair cells. Stepanyan RS, Indzhykulian AA, Vélez-Ortega AC, Boger ET, Steyger PS, Friedman TB, Frolenkov GI. Journal of the Association for Research in Otolaryngology : JARO. 2011; 12(6):729-40. PMID: 21879401
Somatic mosaicism caused by monoallelic reversion of a mutation in T cells of a patient with ADA-SCID and the effects of enzyme replacement therapy on the revertant phenotype. Moncada-Vélez M, Vélez-Ortega A, Orrego J, Santisteban I, Jagadeesh J, Olivares M, Olaya N, Hershfield M, Candotti F, Franco J. Scandinavian journal of immunology. 2011; 74(5):471-81. PMID: 21671975
Peripherally induced human regulatory T cells uncouple Kv1.3 activation from TCR-associated signaling. Reneer MC, Estes DJ, Vélez-Ortega AC, Norris A, Mayer M, Marti F. European journal of immunology. 2011; 41(11):3170-5. PMID: 21834013