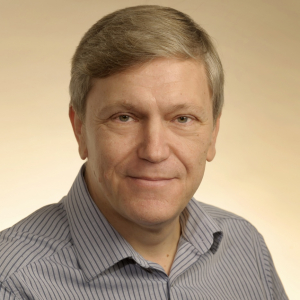 Gregory Frolenkov, PhD
Connect
Office: (859) 323-8729
gregory.frolenkov@uky.edu
741 South Limestone, BBSRB B-375, Lexington, KY 40536
Positions
College Unit(s)
Biography and Education
Education
MS, PhD, Moscow Institute of Physics and Technology & Cardiology Research Center, USSR, 1978-1988
  
Lab Chief, Research Center for Audiology and Hearing Rehabilitation, Moscow, Russia, 1990-1997
  
Postdoc, National Institute on Deafness and other Communication Disorders, NIH, Bethesda, MD, 1997-2005
  
Professor, Department of Physiology, University of Kentucky, Lexington, KY, 2005-present
Research
Our goal is to understand the molecular mechanisms of mechano­sensitivity in the sensory cells of the mammalian inner ear, the hair cells.  This research is important not only because it is crucial for understanding our senses of hearing and balance, but also because hair cell studies often establish methodologies and serve as a model for exploring mechanotransduction in other systems.  Since most cases of severe hearing loss and deafness are associated with the damage to the inner ear hair cells, our experimental models are often relevant to the different types of deafness in humans.
We use mouse models with targeted gene deletion (knockout) or deafness-related mutations to determine the function of specific proteins.  The function is assessed at the cellular, molecular, and whole animal levels. We use patch-clamp techniques, 3D electron microscopy of cryo-preserved or freeze-substituted samples, live cell confocal microscopy, calcium imaging, super-resolution optical imaging, and cochlear physiology techniques.  We also develop emerging nanotechnology to visualize individual proteins at the surface of a living cell and to probe their function.  Prospective post-doctoral fellows and graduate students are expected to learn cutting edge techniques of cell physiology and cell biology and collaborate with a number of laboratories across the country and overseas.
CURRENT TEAM: Isabel Aristizabal-Ramirez; Emma Bondy; Abbey Dragich; Shadan Hadi; Aileen Khosravi; K. Sofia Zuluaga-Osorio
ALUMINI: Jonathan (Mike) Grossheim; Artur Indzhykulian; Ghanshyam Sinha; Ruben Stepanyan; A. Catalina Vélez-Ortega
NEWS:
July, 2023 - New paper in Cell Stem Cell
July, 2023 - Cata's paper is out in Nature Communications.
July, 2022 - Isabel has been accepted to the Biology of the Inner Ear @ Woods Hole.
June 23, 2022 - New paper in PNAS.
May 23, 2022 - Congratulations! Abbey has got her NIH Fellowship (F31DC020639).
August 17, 2021 - Surprisingly, we have co-authored a paper on Streptococcus (!) in Nat Chem Biol.
January 21, 2021 - Congratulations to Caro with her first first-author paper.
July 8, 2020 - Congratulations to Mike with his PhD defense!
June 10, 2020 - New grant, R01DC019054 (NIH/NIDCD)
Mar 9, 2020 - Congratulations to Shadan with her first first-author paper.
July 1, 2019 - It's official now. Cata has got a tenure-track faculty position. From now on, follow her research endeavors here.
June, 2019 - New paper in JCI Insight.
November, 2018 - New paper in Nature. Congratulations to Abbey!
June, 2018 - New grant, S10 OD025130 (NIH) - our EM infrastructure improves significantly.
June, 2018 - Cata has got her first grant from NIH (R21 DC017247).
Selected Publications
Katsuno T, Belyantseva IA, Cartagena-Rivera AX, Ohta K, Crump SM, Petralia RS, Ono K, Tona R, Imtiaz A, Rehman A, Kiyonari H, Kaneko M, Wang YX, Abe T, Ikeya M, Fenollar-Ferrer C, Riordan GP, Wilson E, Fitzgerald TS, Segawa K, Omori K, Ito J, Frolenkov GI, Friedman TB, Kitajiri S (2019) TRIOBP-5 sculpts stereocilia rootlet F-actin bundles and stiffens Deiters' cells to transduce sound. JCI Insight, 4(12),  pii: 128561. DOI: 10.1172/jci.insight.128561.
Chessum L, Matern MS, Kelly MC, Johnson SL, Ogawa Y, Milon B, McMurray M, Driver EC, Parker A, Song Y, Codner G, Esapa CT, Prescott J, Trent G, Wells S, Dragich AK, Frolenkov GI, Kelley MW, Marcotti W, Brown SDM, Elkon R, Bowl MR, Hertzano R (2018) Helios is a key transcriptional regulator of outer hair cell maturation. Nature. 563(7733): 696-700. DOI: 10.1038/s41586-018-0728-4.
Giese APJ, Tang YQ, Sinha GP, Bowl MR, Goldring AC, Parker A, Freeman MJ, Brown SDM, Riazuddin S, Fettiplace R, Schafer WR, Frolenkov GI (co-corresponding author), Ahmed ZM (2017) CIB2 interacts with TMC1 and TMC2 and is essential for mechanotransduction in auditory hair cells. Nat. Commun., Jun 29;8(1):43. doi: 10.1038/s41467-017-00061-1. This study in the news: ScienceDaily
Vélez-Ortega AC, Freeman MJ, Indzhykulian AA, Grossheim JM, Frolenkov GI. (2017) Mechanotransduction current is essential for stability of the transducing stereocilia in mammalian auditory hair cells. eLife, DOI: http://dx.doi.org/10.7554/eLife.24661. This study in the news: UKy News.
Elkon R, Milon B, Morrison L, Shah M, Vijayakumar S, Rarcherla M, Leitch CC, Silipino L, Hadi S, Weiss-Gayet M, Barras E, Schmid CD, Ait-Lounis A, Barnes A, Eisenman DJ, Frolenkov GI, Strome SE, Durand B, Zaghloul NA, Jones SM, Reith W, Hertzano R. (2015) RFX transcription factors are novel regulators of inner ear hair cell maturation and survival, Nat. Commun., Oct 15; 6:8549.
Fang Q, Indzhykulian AA, Mustapha M, Riordan GP, Dolan DF, Friedman TB, Belyantseva IA, Frolenkov GI, Camper SA, Bird JE. (2015) The 133-kDa N-terminal domain enables myosin 15 to maintain mechanotransducing stereocilia and is essential for hearing.  eLife, DOI: http://dx.doi.org/10.7554/eLife.08627
Indzhykulian AA, Stepanyan RS, Nelina A, Spinelli KJ, Ahmed ZM, Belyantseva IA, Friedman TB, Barr-Gillespie PG, Frolenkov GI (2013) Molecular Remodeling of Tip Links Underlies Mechanosensory Regeneration in Auditory Hair Cells. PLoS Biol., Jun, 11(6):e1001583 (featured on the cover). This study in the news: Cell, NIH Research Matters, UKy News, PLoS Biology, NIDCD/NIH, Science Daily.
Riazuddin S, Belyantseva IA, Giese A, Lee K, Indzhykulian AA, Nandamuri SP, Yousaf R, Shinha GP, Lee S, Terrell D, Hegde RS, Ali RA, Anwar S, Andrade-Elizondo PB, Sirmaci A, Parise LV, Basit S, Wali A, Ayub M, Ansar M, Ahmad W, Khan SN, Akram J, Tekin M, Riazuddin Sh, Cook T, Buschbeck EK, Frolenkov GI, Leal SM, Friedman TB, Ahmed ZM. (2012) Mutations of CIB2, a calcium and integrin binding protein, cause Usher syndrome type 1J and nonsyndromic deafness DFNB48. Nat. Genet. 44(11):1265-71.
This study in the news: ScienceDaily, Daily Mail (UK), US News.
Stepanyan RS, Indzhykulian AA, Vélez-Ortega AC, Boger ET, Steyger PS, Friedman TB, Frolenkov GI. (2011) TRPA1-mediated accumulation of aminoglycosides in mouse cochlear outer hair cells. J Assoc Res Otolaryngol. 12(6):729-40. 
Kitajiri S, Sakamoto T, Belyantseva IA, Goodyear RJ, Stepanyan R, Fujiwara I, Bird JE, Riazuddin S, Riazuddin S, Ahmed ZM, Hinshaw JE, Sellers J, Bartles JR, Hammer JA 3rd, Richardson GP, Griffith AJ, Frolenkov GI, Friedman TB. (2010) Actin-bundling protein TRIOBP forms resilient rootlets of hair cell stereocilia essential for hearing. Cell 141: 786-798 (featured on the cover). This study in the news: NIDCD/NIH, Cell.
Novak P, Li C, Shevchuk AI, Stepanyan R, Caldwell M, Hughes S, Smart TG, Gorelik J, Ostanin VP, Lab MJ, Moss GWJ, Frolenkov GI (co-corresponding author), Klenerman D, Korchev YE. (2009) Hopping probe ion conductance microscopy allows nanoscale imaging of live complex cellular structures. Nat. Methods 6: 279-281 (featured on the cover).
Stepanyan R, Frolenkov GI. (2009) Fast adaptation and Ca2+-sensitivity of the mechanotransducer require myosin-XVa in inner but not outer cochlear hair cells.  J. Neurosci. 29: 4023-4034.
PubMed Publications
Promenade around the lab