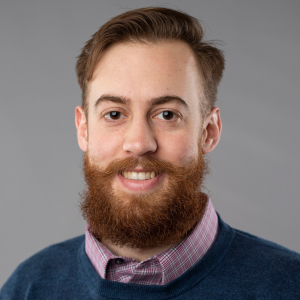 Aaron Silverstein
Connect
aaron.silverstein@uky.edu
Positions
MD/PhD Student
PhD Candidate, Alilain Lab
College Unit(s)
Other Affiliation(s)
Neuroscience
SCOBIRC - Graduate Student
Biography and Education
Education
Aaron Silverstein is an MD/PhD student, beginning his 2nd year of PhD training after successfully passing his PhD qualifying exam in July 2022 and completing two years of medical school. He hails from Paducah, KY, where he was homeschooled until beginning his post-secondary studies at the University of Kentucky. While an undergraduate, Aaron was a member of Dr. Warren Alilain's lab in the Department of Neuroscience, Spinal Cord and Brain Injury Research Center, studying therapeutics to restore breathing motor function after cervical spinal cord injury. After graduating with dual degrees in Neuroscience and Psychology (including a minor in Violin Performance), Aaron completed a research rotation in Dr. Brandon Miller's lab, also within SCoBIRC, in the department of Neurosurgery, studying inflammation and white matter damage using microglia and oligodendrocyte progenitor cells in vitro. Aaron is now a graduate student in the Alilain lab, working on projects focused on SCI, intermittent hypoxia therapy treatment and ethanol psychology. Aaron and his wife, Kelsey, welcomed a baby girl, Noah Joy, in August of 2022 and enjoy cooking, bicycling, watching MMA (and to a lesser degree, practicing it), camping, and hiking.
Summary:
Current Year:
G2 MD/PhD (UK Ongoing); BS, BS (UK Completed 2019)
Hometown:
Paducah, KY
Selected Publications
Silverstein, AL and Alilain, WJ (2021) Intermittent hypoxia induces greater functional breathing motor recovery as a fixed rather than varied duration treatment after cervical spinal cord injury in rats. Neurotrauma Reports 2:1, 343–353, DOI:10.1089/neur.2021.0004. Maddie Stanback, Alexandra E. Stanback, Saadia Akhtar, Ross Basham, Bharath Chithrala, Bennett Collis, Bernardo Aguzzoli Heberle, Emma Higgins, Allison Lane, Saisindhu Marella, Matthew Ponder, Prachi Raichur, Aaron Silverstein, Catherine Stanley, Kelsi Vela, and Robin L. Cooper. (2019). The Effect of Lipopolysaccharides on Primary Sensory Neurons in Crustacean Models. Impulse (Columbia, S.C.).