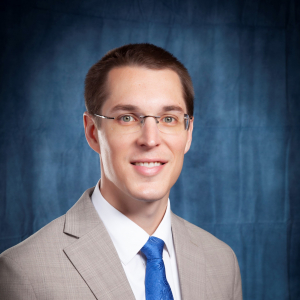 Nathan D Cass, MD
Connect
(859) 257-5405
ndca237@uky.edu
Positions
Assistant Professor
Division of Otology, Neurotology, & Cranial Base Surgery
College Unit(s)
Biography and Education
Biography
Dr Cass received his undergraduate degree from Stanford University, and his medical degree from Ohio State University, where he graduated cum laude and was elected to the national medical honor society Alpha Omega Alpha.  He completed residency training in otolaryngologyat the University of Colorado, where his colleagues awarded him the Resident Teaching Award.  This was followed by a post-doctoral NIH research fellowship at the University of Michigan.  He then completed a two-year fellowship in pediatric and adult otology, neurotology, and skull base surgery at Vanderbilt University. 
As an otologist–neurotologist, Dr Cass focuses on treating children and adults with disorders of the ear, temporal bone, and lateral skull base.  He is board certified by the American Board of Otolaryngology—Head and Neck Surgery.  He is a member of the American Neurotology Society and the American Academy of Otolaryngology—Head and Neck Surgery, where he serves on several committees.  Dr Cass leads research efforts to improve patient care and outcomes, and has published over 30 peer-reviewed scientific research articles and numerous book chapters within the field of otology, neurotology, and skull base surgery.  
________
Personal Philosophy:
Educated patients make the best decisions for their care, and my goal is always to educate in order to empower.  Many disorders involve choosing between multiple treatment options, and I want patients to understand as best as possible the advantages and disadvantages of each.  I understand it can be confusing and uncomfortable to face a complex health problem, and daunting to place trust in someone else—especially when the condition threatens hearing, facial movements, and other functions which are critical to communication and help us connect with others.  I aim to use my clinical knowledge and expertise to help patients through thesechallenging conditions. 
____________
Dr Cass sees children and adults with ear-related problems including hearing loss, skull base tumors (including acoustic neuroma, paraganglioma/glomus tumors, meningioma, and others), temporal bone cerebrospinal fluid leaks and encephaloceles, chronic ear infections, cholesteatoma, otosclerosis, facial nerve disorders and tumors, vestibular disorders including superior semicircular canal dehiscence and Meniere's disease, aural atresia, ear canal disorders,and temporal bone cancers, among others.  
Dr Cass performs surgeries including cochlear implantation, acoustic neuroma surgery and other skull base surgeries to remove tumors, gamma knife stereotactic radiosurgery, tympanoplasty, mastoidectomy, ossicular chair reconstruction, atresiaplasty, ear tube placement, labyrinthectomy, superior canal dehiscence repair, among others.
Education
Undergraduate - Stanford University
Doctor of Medicine (MD) , Ohio State University College of Medicine
Otolaryngology Internship & Residency, University of Colorado Department of Otolaryngology
NIH T32 Research Fellowship & Clinical Lectureship, University of Michigan Department of Otorhinolaryngology
Neurotology Fellowship, The Otology Group of Vanderbilt