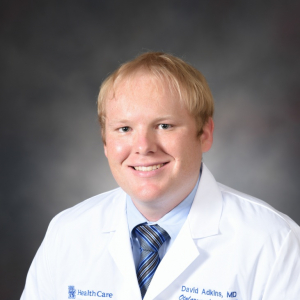 David Adkins, MD
Positions
College Unit(s)
Biography and Education
Learner Information
What are your hobbies?
In my free time, I try to be outside as much as possible. Growing up in West Virginia, I have never been far from great trails for hiking or mountain biking. These are both major hobbies I have continued to enjoy over the years. My fiancé being a former cross-country runner has also sparked an interest in jogging. I have run a decent number of 5k's and 10k's. My next goal will be to finish a half marathon.  During the winter months, I enjoy downhill skiing.
Biography
I have been around medicine since a very young age as my father is an orthopedic surgeon. Throughout high school and the early parts of my undergraduate at Wake Forest, I kept an open mind about my career path. I was always drawn to math and science fields, often switching between engineering, finance, and medicine. I ended up choosing medicine after my experiences working as an EMT. It was responding to medical emergencies where I discovered a love for treating patients and helping members of my community navigate difficult situations. 
I started developing an interest in otolaryngology during the head and neck unit of my first-year anatomy course. I fostered that interest during my third and fourth year elective rotations. I value both treating patients in the OR, finding palpable solutions for complex problems; as well as, establishing strong clinical relationships with patients in the outpatient setting. I am also drawn to the considerable diversity the field offers. Otolaryngologists can provide a wide array of medical and surgical interventions in order to treat both adult and pediatric patients. Finally, I admire the specialty's almost universal dedication to serving their communities through research endeavors and innovation. Research is an important cornerstone of medicine, constantly driving improvements in patient care. Balance, diversity, and innovation are all aspects of medicine I love, and this ultimately led me to otolaryngology.
Summary:
Current Year:
PGY-4 Wake Forest Univ., West Virginia University School of Medicine
Hometown:
Charleston, WV