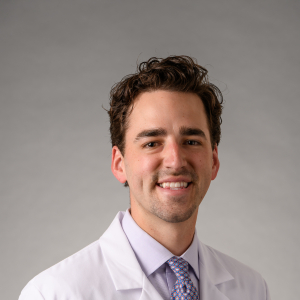 Connor Dedeker, MD
Positions
College Unit(s)
Biography and Education
Learner Information
Why did you choose the University of Kentucky?
I was first drawn to the University of Kentucky following their virtual open house last fall. Even during a short Zoom call, I got a sense of the sincere camaraderie, collegiality, and enjoyment that both the residents and faculty shared in being a part of this department. Dr. Comer was honest, transparent, and real with us regarding the ins and outs of the residency program, and shared data to support his claims about the exemplar surgical training and in-service exam records of the residents who train here. On interview day, I felt an even deeper level of connection with the attendings and residents and sensed the genuine care they had for me as a person and future trainee. Additionally, they instilled confidence in me that I would be prepared and supported should I choose to pursue a fellowship, but also aptly trained to confidently enter general practice directly following residency. 
What are your hobbies?
Outside of the hospital, I enjoy playing any and all sports (pickleball, basketball, golf, etc.), coffee and espresso making, cooking new recipes with my wife, and exploring the many restaurants and distilleries Lexington has to offer. This city has a unique balance of big city resources and a Southern small-town feel, which we love. 
Education
Undergraduate: Texas Christian University
Summary:
Current Year:
PGY-2 TX Christian Univ., Univ. of Minnesota
Hometown:
Minneapolis, Minnesota