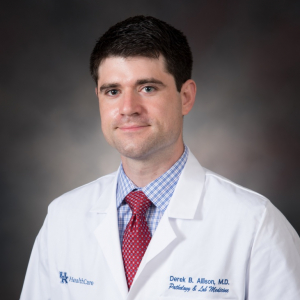 Derek Allison, MD
Connect
Derek.Allison@uky.edu
Positions
Assistant Professor
Associate Director, Biospecimen Procurement and Translational Pathology Shared Resource Facility (BPTP SRF)
College Unit(s)
Biography and Education
Education
B.S. in Biochemistry - Lipscomb University (2010)
MD - Georgetown University (2014)
AP/CP Residency - The Johns Hopkins University School of Medicine (2018)
Cytopathology Fellowship - The Johns Hopkins University School of Medicine (2019)
Selected Publications
Publications and Other Scholarly Work
Lilo MT, Allison D, Wang Y, et al. Expression of P40 and P63 in lung cancers using fine needle aspiration cases. Understanding clinical pitfalls and limitations. J Am Soc Cytopathology. 2016;5(3):123-132.
Allison DB, Miller JA, Coquia SF, Maleki Z. Ultrasonography-guided fine-needle aspiration with concurrent small core biopsy of neck masses and lymph nodes yields adequate material for HPV testing in head and neck squamous cell carcinomas. J Am Soc Cytopathology. 2016;5(1):22-30.
Ladd MR, Garcia AV, Allison DB, et al. Intraluminal Meckel's Duplication Cyst Causing Bowel Obstruction in an Infant: A Role for Laparotomy. Case Reports in Pediatrics, vol. 2016, Article ID 4717403, 4 pages, 2016.
Allison DB and Maleki Z. HPV-related Head and Neck Squamous Cell Carcinoma: An Update and Review Article. J Am Soc Cytopathol. 2016;5(4):203-215
Allison, DB, Olson, MT, Lilo M, et al. Should the BK polyomavirus cytopathic effect be best classified as atypical or benign in urine cytology specimens? Cancer Cytopathol. 2016; 124: 436–442. (Featured on cover of the June 2016 issue)
Allison, DB, Lilo, MT, Geddes S, et al. Detection of PIK3CA mutations, including a novel mutation of V344G in exon 4, in metastatic lung adenocarcinomas: A retrospective study of 115 FNA cases. Cancer Cytopathol. 2016;124: 485–492 (Featured on the cover of the July 2016 issue)
Crawford TC, Allison DB, Kilic A, Schwartz DA. "A Curious Case of Intussusception." AJSP: Reviews & Reports. 2016;21(4):200-202.
Allison DB, Olson MT, Maleki Z, Ali SZ. Metastatic urinary tract cancers in pap test: Cytomorphologic findings and differential diagnosis. Diagn Cytopathol. 2016;44(12):1078-1081.
Allison DB, and Baras AS. Molecular features of urothelial carcinoma of the bladder: A brief overview with histologic and clinical correlates. AJSP: Reviews & Reports. 2016;21(6):284-292.
Allison, DB, Bishop, JA and Ali SZ. Cytopathologic characteristics of SMARCB1 (INI-1) deficient sinonasal carcinoma: A potential diagnostic pitfall. Diagn. Cytopathol. 2016;44: 700–703.
Allison, DB, Wakely, PE, Siddiqui, MT and Ali, SZ. Nodular fasciitis: A frequent diagnostic pitfall on fine-needle aspiration. Cancer Cytopathol. 2017;125: 20–29. (Featured on cover of the January 2017 issue)
Lilo MT, VandenBussche CJ, Allison DB, et al. Serous cystadenoma of the pancreas: Potentials and pitfalls of a preoperative cytopathologic diagnosis. Acta Cytol. 2017;61:27-33.
Miller J, Allison DB, Maleki Z. Interpretation of HPV DNA in situ hybridization in HPV-related head and neck squamous cell carcinoma: An achievable task in cell block and small biopsy material. J Am Soc Cytopathol. 2017;6(3):89-95.
VandenBussche CJ, Allison DB, Graham MK, et al. Alternative lengthening of telomeres and ATRX/DAXX loss can be reliably detected in FNAs of pancreatic neuroendocrine tumors. Cancer Cytopathol. 2017;125: 544-551.
Lilo MT, Allison DB, Younes BK, et al. The Critical Role of Endobronchial Ultrasound-Guided Transbronchial Needle Aspiration Cytology in The Staging of Mediastinal Lymph Nodes in Lung Cancer Patients: A Correlation Study with Positron Emission Tomography Findings. Cancer Cytopathol. 2017;125: 717-725.
Allison DB, McCuiston AM, VandenBussche CJ. The fine needle aspiration of soft tissue neoplasms with neuroendocrine differentiation. J Am Soc Cytopathol. 2017;6(5): 185-193.
Allison DB, McCuiston AM, Maleki Z. Cystic Major Salivary Gland Lesions: Utilizing fine needle aspiration to optimize the clinical management of a broad and diverse differential diagnosis. Diagn Cytopathol. 2017;45: 800-807.
Davis RJ, Allison DB, Mydlarz WK. An Aggressive Sinonasal Mass with Parameningeal Extension. JAMA Otolaryngol Head Neck Surg. 2018;144(5): 447-448.
Zheng G, Streiff MB, Allison DB, Takemoto CM, et al. A Novel Diagnostic Algorithm for Heparin-Induced Thrombocytopenia. Int J Lab Hematol. 2018;40 (5), 527-532.
VandenBussche CJ, Allison DB, Gupta M, Ali S, Rosenthal D. A 20 Year and 46,000 Specimen Journey to Paris Reveals the Influence of Reporting Systems and Passive Peer Feedback on Pathologist Practice Patterns. Cancer Cytopathol. 2018;126: 381-389.
Allison DB, Sharma R, Cowan ML, VandenBussche CJ. Evaluation of Sienna Cancer Diagnostics hTERT Antibody on 500 Consecutive Urinary Tract Specimens. Acta Cytol. 2018;62: 302–310.
Allison DB, Simner PJ, Syed ZA. Identification of Microorganisms on Cytology Specimens: A Review of Ancillary Diagnostic Techniques. Cancer Cytopathol. 2018;126: 643-653.
Allison DB, VandenBussche CJ, Rooper LM, Wakely PE, Rossi ED, Faquin WC, Ali SZ. Nodular Fasciitis of the Parotid Gland: A Challenging Diagnosis on Fine Needle Aspiration. Cancer Cytopathol. 2018;126: 872-880.
Gelwan E, Allison DB, Cowan ML, DeLuca J, Fite JJ, Wangsiricharoen S, Williamson B, Zhang LM, Zhou A, VandenBussche CJ. Performance of the CellSolutions BestPrep® Cell Sorter Imaging System in the Digital Image Analysis of Urinary Tract Cytology Specimens. J Am Soc Cytopathology. 2019;8(1): 18-26.
Allison DB, Rooper LM, Mustafa S, Maleki Z, Wakely PE, Bishop, JA, Ali SZ. Cytopathologic Characteristics of Human Papilloma Virus-Related Small Cell Carcinoma of the Oropharynx. Cancer Cytopathol. 2019;127: 35-43.
Allison DB and VandenBussche CJ. A Review of Urine Ancillary Tests in the Era of the Paris System. Acta Cytologica. 2019;6:1-11.
Smith AP, Dueber JC, Allison DB. A Diagnostic Review of Carcinomas and Sarcomas of the Mediastinum: Making the diagnosis on fine-needle aspiration and core needle biopsy specimens. Semin Diagn Pathol. 2020;37(4):187-198.
Allison DB, Smith AP, An D, et al. Assessing the diagnostic accuracy for pleomorphic adenoma and Warthin tumor by employing the Milan System for Reporting Salivary Gland Cytopathology: An international, multi-institutional study. Cancer Cytopathology. 2021;129(1):43-52.
Zahra M, Allison DB, Hill M, Satomi K, David E, Pantanowitz L. Application of The Milan System for Reporting Salivary Gland Cytopathology to Cystic Salivary Gland Lesions. Cancer Cytopathol. 2021;129:214-25.
Allison DB, Wiles A, Maleki Z. Reply to Assessing the diagnostic accuracy for pleomorphic adenoma and Warthin tumor by employing the Milan System for Reporting Salivary Gland Cytopathology: An international, multi-institutional study. Cancer Cytopathol 2021;129:406-7.
Stanback AE, Conroy LR, Young LEA, Markussen KH, Hawkinson TR, Clark HA, Allison DB, Sun RC. Regional N-Glycan and Lipid Analysis from Tissues Using MALDI-Mass Spectrometry Imaging. STAR Protocols. 2021;2(1):100304.
Moore RF, Zhang XR, Allison DB, Rooper LM, Campbell AA, Eberhard CG. High-Risk Human Papillomavirus and ZEB1 in Ocular Adnexal Sebaceous Carcinoma. Journal of Cutaneous Pathology. 2021; 1– 7.
Allison DB. Challenges in Recognizing Urothelial Carcinoma in situ with Plasmacytoid Features by Urinary Cytology. Cancer Cytopathology. 2021;129:772-3.
Myint ZW, Sun RC, Hensley PJ, James AC, Wang P, Strup SE, McDonald RJ, Yan D, St. Clair WH, Allison DB. Evaluation of Glutaminase Expression in Prostate Adenocarcinoma and Correlation with Clinicopathologic Parameters. Cancers. 2021;13: 2157. https://doi.org/10.3390/cancers13092157
Allison DB. Spotlight: Rising Stars in Cytology. Cancer Cytopathology. 2021;129:499-500.
Conroy LR, Stanback AE, Young LEA, Clarke HA, Austin GL, Liu J, Allison DB, Sun RC. In situ analysis of N-linked Glycans as Potential Biomarkers of Clinical Course in Human Prostate Cancer. Molecular Cancer Research 2021;19:1727-38.
Wake LM, Allison DB, Ware AD, et al. Pathology Residency Program Special Expertise Tracks Meet the Needs of an Evolving Field. Academic Pathology. 2021;8. https://doi.org/10.1177/23742895211037034
Myint ZW, Allison DB, Ellis CS. A Case Report of Metastatic Castration-Resistant Prostate Cancer Harboring a PTEN Loss. Frontiers in Oncology. 2021;11:731002. https://doi.org/10.3389/fonc.2021.731002
Huang B, Chen Q, Allison DB, El Khouli R, Peh KH, Mobley J, et al. Molecular Tumor Board Review and Improved Overall Survival in Non–Small-Cell Lung Cancer. JCO Precision Oncology. 2021:1530-9.
Jacob A, Raj R, Allison DB, Myint ZW. Androgen Receptor Signaling in Prostate Cancer and Therapeutic Strategies. Cancers. 2021; 13(21):5417. https://doi.org/10.3390/cancers13215417
Hawkinson TR, Clarke HA, Young LEA, Conroy LR, Markussen KH, Kerch KM, Johnson LA, Nelson PT, Wang C, Allison DB, Gentry MS, Sun RC. In situ spatial glycomic imaging of mouse and human Alzheimer's disease brains. Alzheimer's & Dementia. 2021, Pre-print online. https://doi.org/10.1002/alz.12523
Jones VM, Wangsiricharoen S, Cornea V, Bocklage TJ, Ali SZ and Allison DB. Cytopathologic Characteristics of Solitary Fibrous Tumor Involving the Pancreas by Fine-needle Aspiration: Making an Accurate Preoperative Diagnosis in an Uncommon Location. Cytopathology. 2022;33:222-9.
Conroy LR, Chang JE, Sun Q, Clarke HA, Buoncristiani MD, Young LEA, McDonald RJ, Allison DB*, Sun RC*. High-dimensionality reduction clustering of complex carbohydrates to study lung cancer metabolic heterogeneity. Adv Cancer Res. 2022;154:227-251. (*Co-Corresponding Author)
Maleki Z, Saoud C, Viswanathan K, Kilic I, Tommola E, Griffin DT, Heider A, Petrone G, Jo VY, Centeno BA, Saieg M, Mikou P, Fadda G, Ali SZ, Kholová I, Wojcik EM, Barkan GA, Eisel, DW, Bellevicine C, Vigliar E, Wiles AB, Al-Ibraheemi A, Allison DB, Dixon GR, Chandra A, Walsh JM, Baloch ZW, Faquin WC, Krane JF, Rossi ED, Pantanowitz L, Troncone G, Callegari FM, Klijanienko J. Application of the Milan System for Reporting Salivary Gland Cytopathology in pediatric patients: An international, multi-institutional study. Cancer Cytopathology. 2022. Pre-print online. https://doi.org/10.1002/cncy.22556
Allison DB, Rueckert J, Cornea V, Lee CY, Dueber J, Bocklage T. Thyroid Carcinoma with NSD3::NUTM1 Fusion: a Case with Thyrocyte Differentiation and Colloid Production. Endocrine Pathology. 2022, Pre-print online. https://doi.org/10.1007/s12022-021-09700-2
Gunawardane SP, Kramer ME, Bearden JM, Resar JR, Lawton JS, Allison DB, Becker RM, Zhang WW, Premaratne S. Chronic migraine with aura as a neurologic manifestation of an atrial myxoma - A case report. Int J Surg Case Rep. 2022 Mar;92:106894. https://doi.org/10.1016/j.ijscr.2022.106894    
Allison DB, Kates M, VandenBussche CJ. Indeterminate atypia in urinary tract cytology: Does it really matter? Diagnostic Cytopathology 2022;50:176-183.
Jacobs A, Raj R, Allison DB, Soares HP, Chauhan A. An update on the management of mixed neuroendocrine-non-neuroendocrine neoplasms (MINEN). Current Treatment Options in Oncology. 2022;23,721–735.
Harbin LM, Gallion HH, Allison DB, Kolesar JM. Next Generation Sequencing and Molecular Biomarkers in Ovarian Cancer—An Opportunity for Targeted Therapy. Diagnostics. 2022; 12(4):842. https://doi.org/10.3390/diagnostics12040842
Allison DB, Zhang ML, Vohra P, VandenBussche CJ. The Diagnostic Dilemma of Urothelial Tissue Fragments in Urinary Tract Cytology Specimens. Diagnostics. 2022;12(4):931. https://doi.org/10.3390/diagnostics12040931
Priyadarshini S, Allison DB, Chauhan A. Comprehensive Assessment of Somatostatin Receptors in Various Neoplasms: A Systematic Review. Pharmaceutics. 2022; 14(7):1394. https://doi.org/10.3390/pharmaceutics14071394
Hang JF, Lee JJL, Nga ME, Higuchi K, Hirata Y, Wu HH, Allison DB, Gilbert JD, Lin O, Saieg M, de Arruda AF, Chen YA, Huang EC, Manucha V. Multi-institutional Validation of a Modified Scheme for Subcategorizing Salivary Gland Neoplasm of Uncertain Malignant Potential (SUMP). Cancer Cytopathology. Epub ahead of print. https://doi.org/10.1002/cncy.22593
Jassim KT, Ferreira JE, Murphy MB, Piecoro DW, Allison DB. The use of diagnostic patterns for interventional cytopathology during rapid on-site evaluation and final classification. Seminars in Diagnostic Pathology. Epub ahead of print. https://doi.org/10.1053/j.semdp.2022.06.014
Ding N, Jiang H, Thapa P, Hao Y, Alshahrani A, Allison DB, Izumi T, Rangnekar VM, Liu X, Wei Q. Peroxiredoxin IV plays a critical role in cancer cell growth and radioresistance through the activation of the Akt/GSK3 signaling pathways. J Biol Chem. 2022 Jun 10:102123. Epub ahead of print. doi: 10.1016/j.jbc.2022.102123
Al-Qurayshi Z, Sullivan CB, Allison DB, Buchakjian, MR. Presentation and outcomes of patients with clinically T1-2, N0 parotid mucoepidermoid carcinoma: The roles of elective neck dissection and adjuvant radiotherapy. Head & Neck. 2022. Epub ahead of print. doi:10.1002/hed.27128
Young LEA, Conroy LR, Clarke HA, Hawkinson TR, Bolton KE, Sanders WC, Chang JE, Webb MB, Alilain WJ, Vander Kooi CW, Drake RR, Andrew DA, Badgett TC, Wagner LM, Allison DB, Sun RC, Gentry MS. In situ mass spectrometry imaging reveals heterogeneous glycogen stores in human normal and cancerous tissues. EMBO Molecular Medicine. 2022.e16029. https://doi.org/10.15252/emmm.202216029
Zhang Z, Cheng L, Li J, Qiao Q, Karki A, Allison DB, et al. Targeting Plk1 sensitizes pancreatic cancer to immune checkpoint therapy. Cancer Research. 2022:CAN-22-0018. https://doi.org/10.1158/0008-5472.CAN-22-0018
Miller RW, Hutchcraft ML, Weiss HL, Wu J, Wang C, Liu J, Jayswal R, Buchanan M, Anderson A, Allison DB, et al. Molecular Tumor Board–Assisted Care in an Advanced Cancer Population: Results of a Phase II Clinical Trial. JCO Precision Oncology. 2022;(6):e2100524. https://doi.org/10.1200/PO.21.00524 
Kong Y, Allison DB, Zhang Q, et al. PLK1 Overexpression Promotes Development of Kras/Tp53-Driven Lung Adenocarcinoma. The kinase PLK1 promotes the development of Kras/Tp53-mutant lung adenocarcinoma through transcriptional activation of the receptor RET. Sci Signal. 2022 Oct 4;15(754). https://doi.org/10.1126/scisignal.abj4009.
Ferreira JE, Mbagwu E, Lee EY, Shelman NR, Allison DB. Cytopathologic Features of Gastroesophageal Junction Adenocarcinoma with Enteroblastic Differentiation and Histopathologic Correlation. Cytopathology (2022). Accepted 12/2022. Author Manuscript. https://doi.org/10.1111/cyt.13198
Wahlstedt E, Bell JR. Allison DB. Adult Granulosa Cell Tumor of the Testis—An Uncommon Testicular Tumor. BMJ Case Reports. Accepted, 12/2022.
Ene A, Di J, Neltner JH, Pittman T, Arnold SM, Kolesar JM, Villano JL, Bachert SE, Allison DB. Case report: A unique presentation of a high-grade neuroepithelial tumor with EWSR1::PATZ1 fusion with diagnostic, molecular, and therapeutic insights. Front Oncol. 2023 Jan 31;13:1094274. http://doi.org/10.3389/fonc.2023.1094274
Huffman EE, Dong BE, Clarke HA, Young LEA, Gentry MS, Allison DB, Sun RC, Waters CM, Alilain WJ. Cervical spinal cord injury leads to injury and altered metabolism in the lungs. Brain Commun. 2023 Mar 28;5(2). http://doi.org/10.1093/braincomms/fcad091
Liu J, Zhao Y, He D, Jones KM, Tang S, Allison DB, Zhang Y, Chen J, Zhang Q, Wang X, Li C, Wang C, Li L, Liu X. A kinome-wide CRISPR screen identifies CK1α as a target to overcome enzalutamide resistance of prostate cancer. Cell Rep Med. 2023 Apr 18;4(4):101015. http://doi.org/10.1016/j.xcrm.2023.101015
Myint ZW, St. Clair WH, Strup SE, Yan D, Li N, Allison DB, McLouth LE, Ellis CS, Wang P, James AC, Hensley PJ, Otto DE, Arnold SM, DiPaola RS, Kolesar JM. A Phase I Dose Escalation and Expansion Study of Epidiolex (Cannabidiol) in Patients with Biochemically Recurrent Prostate Cancer. Cancers. 2023; 15(9):2505. https://doi.org/10.3390/cancers15092505
DuCote TJ, Naughton KJ, Skaggs EM, Bocklage TJ, Allison DB, Brainson CF. Using artificial intelligence to identify tumor microenvironment heterogeneity in non-small cell lung cancers. Lab Invest. 2023 May 12:100176. http://doi.org/10.1016/j.labinv.2023.100176. Epub ahead of print. PMID: 37182840.
Conroy LR*, Clarke HA*, Allison DB*, Valenca SS, Sun Q, Hawkinson TR, Young LEA, Ferreira JE, Hammonds AV, Dunne JB, McDonald RJ, Absher KJ, Dong BE, Bruntz RC, Markussen KH, Juras JA, Alilain WJ, Liu J, Gentry MS, Angel PM, Waters CM, Sun RC. Spatial metabolomics reveals glycogen as an actionable target for pulmonary fibrosis. Nature Communications. 2023 May 13;14(1):2759. https://doi.org/10.1038/s41467-023-38437-1. *Co-first Authors
Castle JT, Levy BE, Allison DB, Rodeberg DA, Rellinger EJ. Pediatric Rhabdomyosarcomas of the Genitourinary Tract. Cancers. 2023; 15(10):2864. https://doi.org/10.3390/cancers15102864
Myint ZW, Chahine Z, Jayswal R, Bachert E, McDonald RJ, Strup SE, James AC, Hensley PJ, Allison DB. Association of CD47 Expression with Clinicopathologic Characteristics and Survival Outcomes in Muscle Invasive Bladder Cancer. Journal of Personalized Medicine. 2023; 13(6):885. https://doi.org/10.3390/jpm13060885
Book Authorship
1. Ali SZ, VandenBussche CJ, Ho C, Nguyen DN, Allison DB, Cimino-Mathews A. Atlas of Exfoliative Cytopathology with Histopathologic Correlations. New York, NY: Demos Medical Publishing, December 30, 2017.
2.  VandenBussche CJ, Rodriguez EF, Allison DB, Zhang ML. Atlas of Cytopathology: A Pattern Based Approach. Philadelphia, PA: Lipincott William & Wilkins, September 2, 2019.
Book Chapter Authorship
1.  Allison DB and Li QK. Chapter 4: "Pulmonary Cytology." In: Atlas of Non-Gynecologic Cytopathology, p. 103-131. Springer International Publishing, 2018.
2.  Allison DB, Borzik D, Li QK. Chapter 7: "Liver Cytology." In: Atlas of Non-Gynecologic Cytopathology, p. 173-198. Springer International Publishing, 2018
3. Siddiqui MT, Allison DB, et al. Chapter 6: "High-Grade Urothelial Carcinoma (HGUC)". In: Wojcik E.M., Kurtycz D.F., Rosenthal D.L. (eds) The Paris System for Reporting Urinary Cytology. Springer, Cham, 2022
4. Allison DB, Ellis CL, VandenBussche CJ. Chapter 1: "Urinary Tract Exfoliative Cytology & Biopsy Specimens: Non-Neoplastic Findings." In: Genitourinary System Cytology and Small Biopsy Specimens Springer, Cham, 2022
5. Allison DB, Ellis CL, VandenBussche CJ. Chapter 1: "Chapter 2. Urinary Tract Exfoliative Cytology & Biopsy Specimens: Low Grade Urothelial Neoplasms". In: Genitourinary System Cytology and Small Biopsy Specimens. Springer, Cham, 2022
6. Allison DB, Ellis CL, VandenBussche CJ. Chapter 3: "Urinary Tract Exfoliative Cytology & Biopsy Specimens: High Grade Urothelial Carcinoma". In: Genitourinary System Cytology and Small Biopsy Specimens. Springer, Cham, 2022
7. Allison DB, Ellis CL, VandenBussche CJ. Chapter 4: "Urinary Tract Exfoliative Cytology & Biopsy Specimens: Other Urothelial Tract Neoplasms". In: Genitourinary System Cytology and Small Biopsy Specimens. Springer, Cham, 2022
8. Allison DB, Lew M, Cochand-Priollet B, Bongiovanni M. Chapter 10: "Poorly Differentiated Thyroid Carcinoma". 3rd Edition. In: The Bethesda System for Reporting Thyroid Cytopathology (TBSRTC). Under Contract