Image
Surgical Pathology Fellowship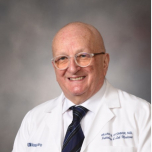 ---
Positions Held:
Professor
Director - Autopsy Services
Director of Surgical Pathology Fellowship Program
One-Year Fellowship in Surgical Pathology
A one-year fellowship in surgical pathology is offered at the University of Kentucky. The division accessions over 28,000 cases per year and performs more than 3,500 frozen sections. A variety of consult cases are handled by the department. A high proportion of surgical accessions are related to the diagnosis and staging of neoplasms and specialized experiences are available in hematologic, breast, pulmonary, cardiac, gastrointestinal, head and neck, bone and soft tissue, renal, neuro, gynecologic and uropathology in addition to immunopathology, molecular pathology, electron microscopy and flow cytometry. The program includes nine months of surgical pathology and three months of electives. Approximately one month of vacation/travel is included.
Requirements
The fellowship is open to individuals who are board-eligible or certified in anatomic pathology or anatomic and clinical pathology.
Responsibilities
The fellow is responsible, along with the chief resident in pathology and lead pathology assistant in surgical pathology, for helping to instruct junior residents in gross room activities associated with surgical pathology. The fellow will also sign out cases on a schedule commensurate with their abilities.
The fellow will also be responsible for actively participating in gross and slide conferences and journal club. The fellow may also present in one or more of the following subspecialty conferences in which the department of pathology participates in: breast, GYN/oncology, pediatric, hematology/oncology, ENT, neurology, renal, pulmonary, cardiac, musculoskeletal, neuropathology, neuroendocrine and GI pathology.
The surgical pathology fellow is expected to participate in at least one project designed to culminate in, work suitable for publication in a peer reviewed journal and/or presentation at a national meeting. Such projects will be carried out in collaboration with members of the pathology faculty or with other faculty members from the College of Medicine or the University.
Stipends and Benefits
Commensurate with year of postgraduate training in pathology.
Applications
To apply for a surgical pathology fellowship at the University of Kentucky, please send the following documents to William Herschelman.
CV
Personal statement
Transcript
Three letters of recommendation
USMLE scores and ECFMG certificate