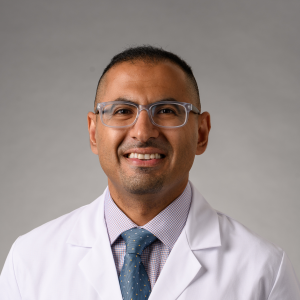 Ali Alhaidary, MBChB
Positions
College Unit(s)
Biography and Education
Learner Information
Why did you choose the University of Kentucky?
I liked how the residency program is diverse and residents are close to each other like family. From my interview, I figured out that faculty or fellows who had finished their residency at UK, eventually came back to UK to fulfill their career goals. That meant that UK is the greatest place for my training as a pathologist. Additionally, I have learned that Lexington is famous for horses and is known as The Bluegrass. I love this because I like nature, green fields and any activity outdoors. Since I have lived in Sacramento for so many years and I found Lexington very similar- small city where you have nice fields and everything you need is close and available.
What are your hobbies?
I like motor sport racing (karting and F1), watching documentaries, hiking, soccer and tennis.
Biography
I enjoy teaching and worked as a professor in Sacramento, California at a sonography school. I like supporting others and learn new things every day. My friends will describe me as friendly and compassionate. I am passionate about pathology because details are so important to me and I have a pictorial memory.
Summary:
Current Year:
PGY-1 University of Baghdad-College of Medicine
Hometown:
Baghdad, Iraq