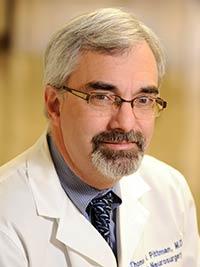 UK College of Medicine Department of Neurosurgery
The brain tumor program provides state-of-the art treatment to patients with brain tumors that includes both pharmacological treatment and surgical intervention. We offer a weekly outpatient clinic in the Kentucky Neuroscience Institute for patients with brain tumors.

Multidisciplinary Team Approach
Our motivated physicians, nurses, and staff offer comprehensive, integrated hematology and oncology/neurosurgery programs for surgical intervention. The clinic allows for a multidisciplinary approach that include neurosurgeons, neuro-oncologists, and radiation medicine experts to see patients all in one visit, making it more convenient for the patient while also allowing for more time spent with a physician.

Sincerely,
Thomas Pittman, MD
Professor of Neurosurgery
Co-Director, Gamma Knife Surgery
Central Nervous System Tumors
Central nervous system tumors are relatively common in the Unites States, with more than 40,000 cases annually. Although more than half of these tumors are benign, they can cause substantial morbidity. Malignant primary brain tumors are the leading cause of death from solid tumors in children and the third-leading cause of death from cancer in adolescents and adult aged 15 to 34 years.
Brain Tumors
For more information about brain tumors, please visit the UK HealthCare page.
The clinical programs and services of the neuro-oncology program are integrated with the Markey Cancer Center. The Markey Cancer specialty teams work together with UK Chandler Hospital departments and divisions to provide primary patient care and support services as well as advanced specialty care with applicable clinical trials. All diagnostic services, clinical and pathology laboratories, operating rooms, emergent and intensive care, and radiation therapy services are also provided to cancer patients through UK Chandler Hospital. 
Due to the complexity of cancer, the Markey Cancer Center stresses a team approach to cancer treatment. Our teams include a dedicated primary nurse, an oncology nurse care manager, a dietitian, a social worker, a pharmacist, a chaplain, volunteers, and a physical or enterostomal therapist if necessary. However, the most important members of our teams are our patients and their families.
View Markey Cancer Center Website