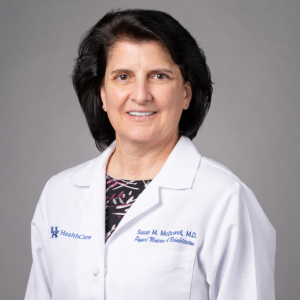 Susan McDowell, MD
Connect
For Appointments- 859-257-3573
Cardinal Hill Rehab Hospital- 2050 Versailles Rd Lexington KY 40504
Positions
Physical Medicine and Rehabilitation Chairperson
Associate Professor
Co-Medical Director for Physician's Clinic
Medical Director-Cardinal HIll Rehabilitation Hospital
College Unit(s)
Other Affiliation(s)
SCOBIRC - Faculty Associates
Biography and Education
Education
Dr. McDowell obtained a B.S. in chemistry from Augusta College (Georgia) and an M.D. from the Medical College of Georgia. She completed a residency in physical medicine and rehabilitation at the University of Kentucky and is board-certified in physical medicine and rehabilitation with a subspecialty certificate in spinal cord injury medicine. She joined the UK faculty in July 1994 and directed the department's residency program from January 1996 through June 2001.
CLINICAL 
Dr. McDowell is the Medical Director of the Physical Medicine & Rehabilitation outpatient clinic at Kentucky Clinic where she directs a kinetic movement disorders clinic for adults and children that includes the use of oral medications, neurolytic injections, and intrathecal drug delivery systems. She has both an outpatient Spinal Cord Injury clinic and a seating and mobility clinic at Cardinal Hill Rehabilitation Hospital. She continues to serve as a consultant at the Lexington unit of Shriner's Hospital for Children, where she participates on a multidisciplinary movement disorders team.
RESEARCH
Dr. McDowell received the department's award for Outstanding Resident of the Year and received the department's award for Outstanding Research Project by a Resident two consecutive years. She has been an investigator in two interdisciplinary studies of the effects of Tizanidine as an antispasticity drug for spinal cord patients and in two studies regarding functional neuromuscular stimulation. She has co-authored two published abstracts and one published article on restraint use during inpatient rehabilitation. She also co-authored an abstract on the use of a university-based student health clinic to promote and educate PM&R students.
EDUCATION
Dr. McDowell currently serves as the Designated Institutional Official for the University of Kentucky College of Medicine on the Accreditation Council for Graduate Medical Education. She directs resident courses in pediatric rehabilitation for the department of Physical Medicine and Rehabilitation. The residents named her Teacher of the Year in 2004.
Selected Publications
Research Gate
Pubmed Publications