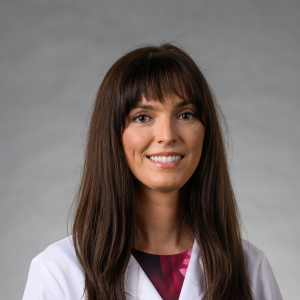 Sarah Toti, MD
Positions
College Unit(s)
Biography and Education
Learner Information
Why did you choose the University of Kentucky?
I always enjoyed competing in and visiting the beautiful city of Lexington, Kentucky, so I made sure to apply here for an away rotation for my 4th year of medical school. During my acting internship, I loved the culture of the ENT department along with the comradery amongst the residents. The program has professional, engaging faculty who train excellent surgeons that are either well-equipped to practice advanced general otolaryngology after residency, or if one desires, pursue competitive fellowships at some of the most prestigious institutions across the country.
What are your hobbies?
When I'm not at the hospital, I enjoy hiking, playing tennis, cooking, and checking out the local Lexington restaurant scene which has yet to disappoint!
Summary:
Current Year:
PGY-2 Univ. of TN, Texas Tech
Hometown:
Las Vegas, Nevada