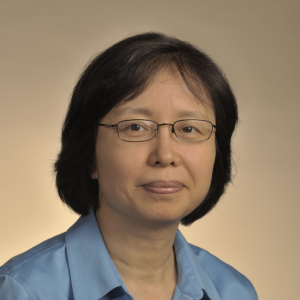 Ming Cui Gong, PhD, MD
Connect
859-218-1361
mcgong2@email.uky.edu
900 South Limestone Street, Wethington Building, Rm: 509, Lexington, KY 40536-0200
Positions
College Unit(s)
Other Affiliation(s)
CVRC - Affiliated Faculty
Nutritional Sciences Graduate Faculty
Pharmacology and Nutritional Sciences - Joint Faculty
Biography and Education
Education
Ph.D. Peking Union Medical College, China and University of Virginia 1994
Research
We use a variety of knockout and transgenic mouse models in combination with physiological, molecular, biochemical, pharmacological, and genetic approaches to study the mechanisms underlying 1) the disruption of blood pressure circadian rhythm in diabetes and 2) aortic aneurysms. 
The blood pressure circadian rhythms are disrupted in up to 75% of diabetic patients, associated with significant worsening of their cardiovascular outcomes. However, the mechanisms linking diabetes to blood pressure circadian rhythm disruption remain largely unknown. Current work focuses on the mechanisms of GLP-1R agonists, a recently FDA-approved class of anti-diabetes drug, on the regulation of blood pressure circadian rhythm. Our studies revealed that the dysregulations of intrinsic clocks and vascular contractility play important roles. We were excited to find that active time-restricted feeding powerfully protects blood pressure circadian rhythm in a diabetic mouse model, suggesting it can serve as a potential novel strategy for helping diabetic patients.
The second line of study investigates the molecular mechanisms underlying aortic aneurysm, a vascular disease affecting millions of Americans with no available drug treatment. Abdominal aortic aneurysms are much more common in men than women, but the mechanisms underlying sex dimorphism are incompletely understood. Using the novel aldosterone and salt-induced aortic aneurysm mouse model developed in our lab, we investigate the roles of PD-1, estrogen, and IL-6 in sex differences in aortic aneurysms.
Selected Publications
Tianfei Hou, Wen Su, Marilyn Duncan, Vsevolozhskaya A. Olgac, Zhenheng Guo and Ming C. Gong: Time-restricted feeding protects the blood pressure circadian rhythm in diabetic mice. PNAS USA 2021, 118(25), e2015873118
Tianfei Hou, Wen Su, Zhenheng Guo, and Ming C. Gong: A novel diabetic mouse model for real-time monitoring of clock gene oscillation and blood pressure circadian rhythm. J. Biol. Rhythms. 2019; 34 (1): 51-68, DOI 10.1177/0748730418803719
Jenny Lutshumba, Shu Liu, Yu Zhong, Tianfei Hou, Alan Daugherty, Hong Lu, Zhenheng Guo, and Ming C. Gong. Deletion of Bmal1 in smooth muscle cells protects mice from abdominal aortic aneurysm. Arterioscler. Thromb. Vasc. Biol. 2018, 38(5): 1063-1075, DOI: 10.1161/ATVBAHA.117.310153.
Zhongwen Xie1, Wen Su3, Shu Liu, Guogang Zhao, Karyn Esser, Elizabeth A. Schroder, Mellani Lefta, Harald M. Stauss, Zhenheng Guo, and Ming Cui Gong (2015) Role of smooth muscle BMAL1 in blood pressure circadian rhythm. Journal of Clinical Investigation, 125(1):324-336; doi: 10.1172/JCI176881
Complete List of Published Work in My Bibliography:
https://www.ncbi.nlm.nih.gov/sites/myncbi/1left78aXqqQa/bibliography/47591730/public/?sort=date&direction=descending
Pubmed Publications