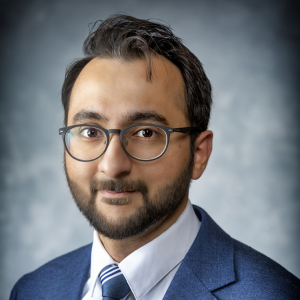 Farhan Mirza, MD
Connect
farhan.amirza@uky.edu
Positions
Assistant Professor of Neurosurgery
Epilepsy Surgery, Neuro-Oncology and Skull Base
Director, Epilepsy Surgery
UK Neurosurgery Student Clerkship Director
College Unit(s)
Other Affiliation(s)
Medical Education Academic Development Director
Biography and Education
Education
Dr. Mirza received his medical degree from the Aga Khan University Medical College (AKU-MC) in Karachi, Pakistan, and then completed neurosurgery residency at the University of Kentucky. Following residency, he received subspecialty fellowship training in adult and pediatric epilepsy surgery, as well as adult brain tumors, at the Montreal Neurological Institute (MNI), McGill University, in Montreal, Canada. He was also a visiting fellow in pediatric epilepsy surgery at the Great Ormond Street Hospital (GOSH) for Children in London, England.
At the University of Kentucky, as Assistant Professor in the Department of Neurosurgery and Director of Epilepsy Surgery, Dr. Mirza focuses on the surgical treatment of refractory epilepsy and brain tumors. He is particularly interested in improving provision of epilepsy surgery for all patients who are suffering from medically refractory epilepsy, in the State of Kentucky and beyond. He is also interested in awake operations for brain tumors, particularly those within or in proximity to eloquent regions of the brain (which control speech, movement, sensation, and cognitive processing), to achieve maximal tumor removal and preserve patient's function after surgery.
Dr. Mirza is a member of the American Epilepsy Society (AES), the Congress of Neurological Surgeons (CNS), the American Association of Neurological Surgeons (AANS), and the North American Skull Base Society (NASBS).