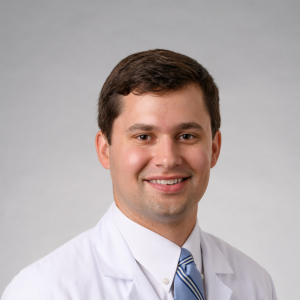 Bronson Wessinger, MD
Positions
College Unit(s)
Biography and Education
Learner Information
Why did you choose the University of Kentucky?
Even over a Zoom call, UK showed that it has one of the best cultures of any ENT department. I knew even without meeting my coresidents and mentors in person that they would be the type of people who push one another to be excellent surgeons while also valuing community and life outside of medicine. 
What do you like about your program?
The people, high patient volume, and wide referral pattern are just some of the strengths that make UK an outstanding place to train, and I feel incredibly fortunate to be part of the team here.
What are your hobbies?
Outside of work, I've loved getting to know the wonderful city of Lexington. My favorite things to do here are try new bourbons, play tennis and pickleball, and go mountain biking at Skull Buster (hopefully never literal). Lexington has plenty to offer people with any interest, and I'm very excited to spend more time here. 
Summary:
Current Year:
PGY-3 Vanderbilt University
Hometown:
Mobile, AL