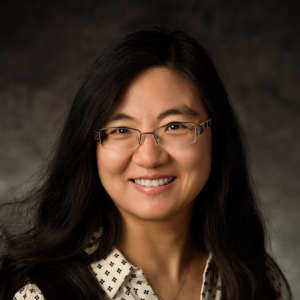 Shuxia Wang, MD, PhD
Connect
Office: 859-218-1367 Lab: 859-218-1368 Fax: 859-257-3646 (fax)
swang7@email.uky.edu
583 C.T. Wethington Bldg, 900 S Limestone St, Lexington, KY 40536-0200
Positions
Professor
Graduate Faculty in Nutritional Sciences
Cardiovascular Research Center
Director of Energy Balance Core of CVRC COBRE
College Unit(s)
Other Affiliation(s)
CVRC - Affiliated Faculty
Nutritional Sciences Graduate Faculty
Pharmacology and Nutritional Sciences Primary Faculty
Biography and Education
Education
Peking Union Medical College  
University of Alabama at Birmingham
Research
Major research focuses in my lab are to study obesity and its-associated metabolic disorders including chronic inflammation, insulin resistance, and non-alcoholic fatty liver disease (NAFLD). One focus is to study the role of matricellular protein-thrombospondin 1(TSP1) in obesity and obesity-associated metabolic disorders.  Particularly, we study how TSP1 regulates monocyte/macrophage function and contributes to obesity-associated chronic inflammation and NAFLD development and progression.  Another research focus in my lab is to determine the role of CD47- a TSP1 receptor in regulating beige and brown fat formation and function and their contribution to aging or diet-induced obesity and metabolic disorders.  Additionally, obesity/diabetes induced renal complications are also studied in my lab. 
Selected Publications
Wang S et al . Nitric oxide and cGMP-dependent protein kinase regulation of thrombospondin 1-dependent TGF-beta activation in response to high glucose exposure. J Biol Chem. 2002, 277(12), 9880-8.
Wang S et al.  Expression of constitutively active cGMP-dependent protein kinase prevents glucose-induced thrombospondin1 expression and TGF-beta activation. Diabetes. 52 (8), 2003, 2144-2150.
LIu S et al. Overexpression of upstream stimulatory factor 2 accelerates diabetic kidney injury. Am J Physiol Renal Physiol, 2007, 293 (5), F1727-35, PMID: 17881461
Li Y et al.  Thrombospondin1 deficiency reduces obesity-associated inflammation and improves insulin sensitivity in a diet-induced obese mouse model. PloS One, 2011, 6 (10): e26656. PMID:22160771.
 Cui W et al. Thrombospondin1 mediates renal dysfunction in a mouse model of high fat diet induced obesity. Am J of Physiol-renal, 2013, July 17.
Li Y et al.  Thrombospondin1 stimulates TNF-alpha expression in macrophages through activation of TLR4 pathway. Cellular and Molecular Immunology, 2013, Aug. 19 (Epub ahead of print)
Maimaitiyiming H et al. CD47 deficiency protects mice from high fat diet induced obesity and insulin resistance.  Scientific Report, 2015 Mar 9, 5:8846
Liu T et al.  Latexin inactivation enhances survival and long-term repopulating capacity of hematopoietic stem cells and expands the entire hematopoietic system in mice. Stem Cell Reports, 2017, 8(4), 991-1004
Memetimin H et al. Myeloid specific deletion of thrombospondin1 protects against inflammation and insulin resistance in long-term diet-induced obese male mice. Am J Physiol Endocrino Metab, 2018  October 23 
Gwag T, et al. Non-nucleoside reverse transcriptase inhibitor efavirenz activates PXR to induce hypercholesterolemia and hepatic steatosis.   J Hepatol. 2019, 70(5):930-940.
Gwag T et al. Macrophage-derived thrombospondin1 promotes obesity-associated non-alcoholic fatty liver disease. J-Hepatology reports, 2020, 3(1), 100193. PMID: 33294831
Li D et al.  Absence of CD47 maintains brown fat thermogenic capacity and protects mice from aging-related obesity and metabolic disorder. Biochem Biophys Res Commun, 2021, 575, 14-19. PMID:34454175.
Gwag T et al.  Anti-CD47 antibody treatment attenuates liver inflammation and fibrosis in experimental non-alcoholic steatohepatitis models. Liver International, 2022, Feb 7. PMID: 35129307
Research Gate
Pubmed Publications