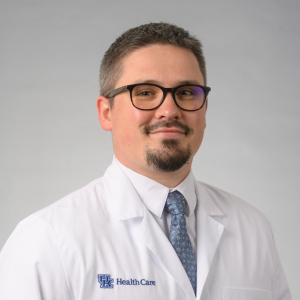 Kolt Pruitt, DO
Positions
College Unit(s)
Biography and Education
Learner Information
Why did you choose the University of Kentucky?
As a lifelong Kentuckian, UK has always been seen as the healthcare capital of the state. I ultimately chose to train at UK because I believe it has all the resources to allow me to achieve my goals with the bonus of getting to live in Lexington. I have a huge interest in Sports Medicine as well, and given the sports track and associated sports medicine fellowship, choosing UK was a no brainer.
What do you like about your program?
I believe the highlight of the program is the residents. We all genuinely enjoy being around each other and that is crucial in a residency program. I also like the ability to train in both an academic based hospital such as Chandler Hospital, as well as a smaller community hospital in Good Samaritan. I think it gives us a good mix of experiences.
What are your hobbies?
Massive Kentucky sports fan (Cats by 90), golfing, traveling, eating as much food as possible, hanging out with my wife and golden doodle
Summary:
Current Year:
PGY-3