Image
Advanced Imaging for Diagnosis
The division of neuroradiology is comprised of fellowship-trained radiologists who specialize in the use of advanced imaging for diagnosis of disorders affecting the nervous system, spine, head, and neck. These include stroke, brain tumors, trauma, aneurysms and vascular malformations, demyelinating diseases, head and neck cancer, and degenerative diseases of the spine. Computed Tomography (CT) and Magnetic Resonance Imaging (MRI) are the primary imaging modalities utilized.  Advanced techniques offered by our division include MR and CT angiography and perfusion imaging, as well as MR spectroscopy. Additionally, the division performs image-guided procedures for diagnostic purposes including fluoroscopic guided lumbar punctures, myelograms, and cisternograms.
Additionally, in conjunction with the department of neurosurgery, the division has expertise in the field of endovascular surgical neuroradiology. This discipline involves the use of angiography and endovascular techniques to diagnose and treat disorders involving the blood vessels of the brain and spine.  These disorders include stroke, aneurysms, vascular malformations, and vasculitis. Treatments offered include coil embolization of aneurysms, arterial stenting, embolization of vascular malformations, thrombectomy for treatment of acute stroke, biopsy of tumors affecting the head and spine, and treatment of compression fractures of the spine.
We offer an ACGME-accredited 1 year neuroradiology fellowship.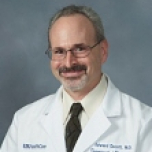 ---
Positions Held:
Professor of Radiology, Otolaryngology-Head and Neck Surgery
Arthur Lieber MD Professor of Diagnostic Radiology
Vice Chair, Faculty Mentoring, Development and Wellness