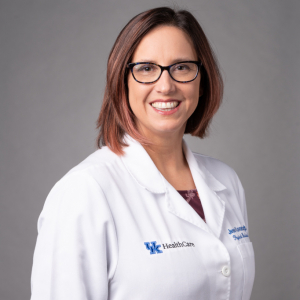 Jessica Kavanaugh, MD
Connect
For Appointments 859-257-3573
Cardinal Hill Rehab Hospital- 2050 Versailles Rd Lexington KY 40504
Positions
College Unit(s)
Biography and Education
Education
Dr. Colyer graduated with honors from Xavier University (Cincinnati, OH) with a B.S. in biology. She received her M.D. degree from the University of Cincinnati College of Medicine in 2006. She completed Medical Acupuncture for Physicians coursework through the Helms Institute (sponsored by Stanford University) in 2008. She completed a residency in Physical Medicine and Rehabilitation at the University of Kentucky in 2010. She is board certified in Physical Medicine and Rehabilitation. Dr. Colyer joined the UK faculty in 2016. She took the role of Residency Program Director in July 2016.
CLINICAL
Dr. Colyer is an attending physician on the Stroke Rehabilitation and General Rehabilitation Units at Cardinal Hill Rehabilitation Hospital. She has outpatient PM&R clinics at both Cardinal Hill and Kentucky Clinic. Her clinical interests include stroke rehabilitation, spasticity management, and electromyography (EMG). She is skilled in using botulinum toxin (Botox) to help prevent arm/leg contractures. She has received training in acupuncture for pain management and has a strong interest in integrated and alternative medical care.
RESEARCH
Dr. Colyer received the PM&R department award for "Best Research Presentation" as a resident in 2008. She has presented many case studies at national meetings and has co-authored abstracts with residents under her guidance.
EDUCATION
As the acting Residency Program Director, Dr. Colyer is immersed in the medical education of PM&R residents. She is highly involved with the PM&R resident lecture series and serves on the department's education committee.