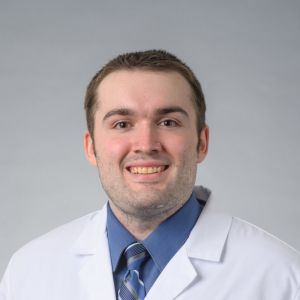 Jordan DeAngelis, DO
Positions
College Unit(s)
Biography and Education
Learner Information
Why did you choose the University of Kentucky?
Primarily I chose UK for the heavy sports medicine connection. I have known for a long time I wanted to be a sports physician since playing NCAA Lacrosse. Many FM residencies have a fellowship or a sports track. Not many have both, or as robust exposure as we receive. Location was also a factor as my family primarily lives in Michigan and Tennessee, so it is a good middle ground where I can see both ends of the family.
What do you like about your program?
The camaraderie between the residents is by far the highlight of this program. We are all very close and it makes a very busy time in life much more enjoyable. I also appreciate getting to see so many things I would be less likely to see at a smaller hospital.
What are your hobbies?
Powerlifting, watching sports, video games, spending time with my family, friends, and cats.
Summary:
Current Year:
PGY-2